The 2018 Marijuana Stock Run Echoes The Bitcoin Run Of 2017
The financials markets this past week witnessed some of the biggest swings in volatility, due mainly to the unsettling surge in Marijuana stocks. In fact, this week the marijuana sector dethroned Bitcoin as the trade of choice. Shortly following the surge of company Tilray from its DEA approval, there was an even greater surge in marijuana related investment articles, adding fuel to the already raging fire. However, if we learnt anything from the Bitcoin run of 2017, what goes up, and keeps going up, will eventually fall, and sometimes keep falling.
Many traders remember all to well that during the Bitcoin run in 2017, a significant number of alternative cryptocurrencies popped up, hoping to piggyback on the Indy car pace of Bitcoin. This led to an influx in scams and deceptive investors drawing comparisons between bitcoin, and some lesser known coin. Unfortunately, we can now see this in this years Marijuana run, as two marijuana companies were strategically placed in the same category as Tilray.
Shares of New Age Beverages Corp. (NASDAQ:NBEV) witnessed a massive surge in price this week, without any real catalysts. We can see, from just over $1.00 per share, it surged to a staggering $10.00 per share, before it fell back to $6.00 per share. The Penny stock community took advantage of this and from volume reports on the options contracts for NBEV, a higher than average number of traders bought a large amounts of call options, yielding 1000+ percentage gains. This is where the danger lies, as a surge like this without a real catalyst, will never sustain such price increases.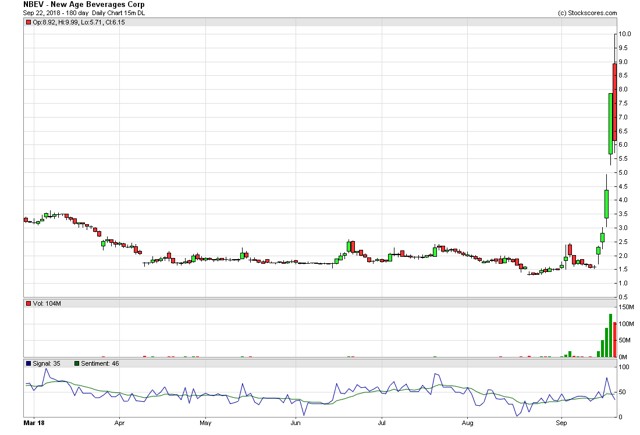 Now, traders are gearing up for the second wave of Marijuana stocks, with more attention places on the emerging Marijuana companies, most often seen in the Over-The-Counter markets. A smaller player in the sector, Bahamas Development Corp, (OTC: BDCI) recently announced that it is nearing completion of its first harvest, while also in the final stages of a merger. Recently, the CEO of BDCI mentioned some recent sales figures of one of the entities involved in the merger,  "The company's infused edibles from January 1st to August 2nd has seen sales of $1,497,000 and a net income of $934,000 which shows strong growth." Traders in this market however are to exercise caution, since Over-The-Counter companies are sometimes less regulated than the big boards.
What is this important? Because, no matter what exchange, what price, what revenues the company has, stocks will run based solely on the excitement of the market sector. A quick analysis will show a small company like BDCI that is only trading at $0.04 per share, is actually more profitable that a company like NBEV who just the other day was trading at $10.00 per share. This is where the investor needs to be extra diligent and cautious when trading based on the emotions of the masses.
This coming week, and month, we should see some interesting moves from all sizes of Marijuana companies, and should act a case study on the psychology of market behavior.