Join KushCA at the New West Summit 3.0!
It's that time of the year folks!
No, no, I'm not talking about shorter days and longer Trump Twitter rants, I'm referring to the New West Summit, a 3-day BIZ + TECH + MEDIA event that is focused exclusively on game-changing, disruptive developments in technology, investment and media in the cannabis industry!
This year KushCA will be doing things a bit different in that we will be in actual attendance at Sunday's consumer day.  And if you know KushCA you know we LOVE to consume anything cannabis, granted they aren't laxatives masquerading as potent edibles. We've already been fooled once.
This year is also special in that there's still time for you to be there too! Click on the link here for $10 off the final ticket!
WHAT IS 

NEW

 

WEST

 CONSUMER DAY?
The event is not only an expo floor of about 100 exhibitors but also:
FREE CANNABIS PRODUCT SAMPLES FOR THOSE OVER 21!
Keynote speech by George Clinton of Parliament Funkadelic
"Game Of Hurt" panel with NBA Hall Of Famer Rick Barry, UFC Legend Frank Shamrock & NFL standouts Marvin Washington and Reggie Williams.
There is also an amazing Job/Career Fair for those looking for work in the cannabis industry. More info on that Click HERE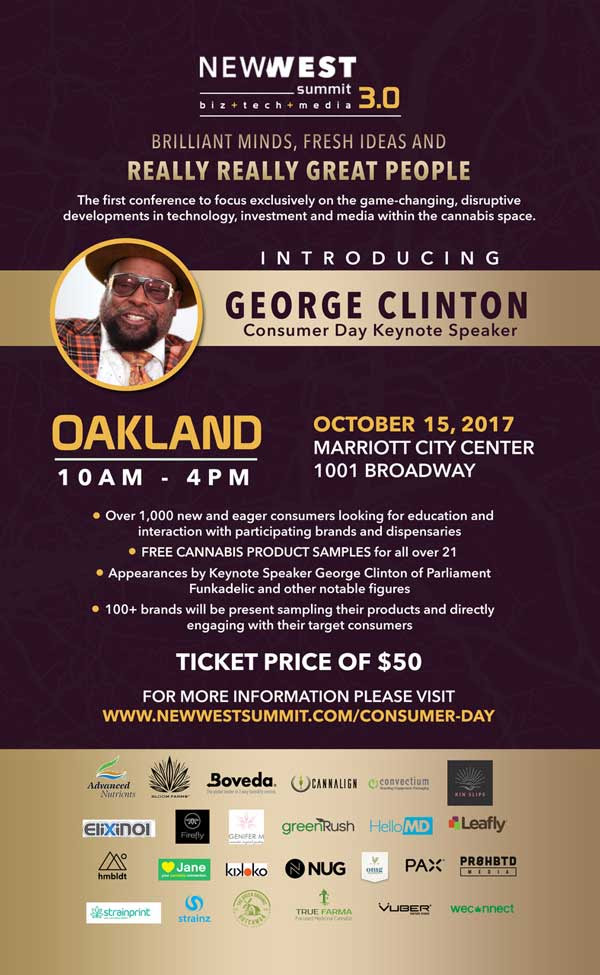 Hi, my name is Petey Wheatstraw. I'm an avid marijuana smoker, writer, devoted father and non-profit minion– not necessarily in that order. A Chicago native I've lived in the Bay Area since 1996.