10 Marijuana Events you Need to Attend in 2017
I began KushCA primarily as a way to speak to the Bay Area's  burgeoning pot culture, but sometimes I get ahead of myself and just want to talk about weed wherever the hell it's being consumed. 
So while there might be some West Coast specific events on this list, KushCA is creating this countdown for everyone. Check out 10 marijuana events around the country that will be sure to have you grinning like a medicated Cheshire cat:
1. High Times SoCal Cannabis Cup
I've already chided some of you for not knowing what High Times Magazine is, so if you are still unaware of who these pot pioneers are shame on you–just Google that shit.
This year for their annual 420 celebration High Times will be celebrating in sty–er, San Bernandino California, a city famous for its dry heat and mass shootings. According to their event page,  "the core of the Cannabis Cup is the expo, which is similar in some aspects to a business convention. There are booths showcasing smoking paraphernalia, cultivation seminars, food stalls and live music performance—reggae being a popular favorite." If you're lucky you might even run into a celebrity or two, as folks such as Snoop Dogg or Berner often attend just to kick it.
2. Abra Ca Dabs Festival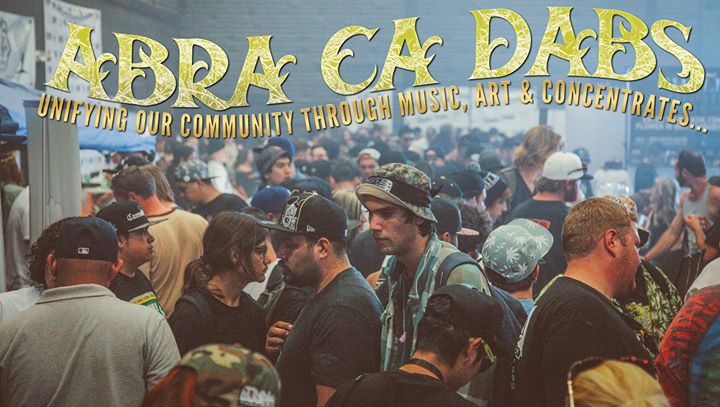 Now I've never heard of the Abra Ca Dabs festival but, upon learning of their existence, I became excited about them for two primary reasons:
It's a festival for celebrating this new "movement" within the cannabis community, aka, "dabbing" and

I like a good pun. Nuff said.
Abra Ca Dabs is celebrating its 5th year on the cannabis festival scene, providing potheads a 3 -day festival celebrating all things marijuana while also educating the public on the benefits of cannabis use and its applications, including education about its legal status and legal use. Expect hundreds of award-winning vendors showcasing the latest products of 2016, all for your consideration. The event will be held in SoCal– Adelanto and Victorville California to be exact.
3. The Hemp and Cannabis Fair
If a "hemp" and "cannabis" fair sounds like something that would happen in an Etsy fever-dream or in a state like Oregon you would be right. Because only white, musty hippies understand the value and importance of hemp, right? (WRONG, shame on you.)
At the H&C fair, you'll find hemp and cannabis products, accessories and tools, grow and harvest equipment, samples and more in the expo hall where everything will be held. Then, after you've thoroughly nerded out, take in some great sessions on growing, medicinal marijuana benefits, legal discussions and more.
4. Global Marijuana March
Not much is know about this event, besides that it will be tentatively held in Fort Worth Texas, a city and state not known for its cannabis tolerance. Additionally, expect other cities around the world to host this event in their own special ways. As a cannabis consumer, you should expect to see these types of demonstrations with greater frequency, as I can assure you there will be an unprecedented backlash against many of the strides made in the cannabis movement. This will come in the form of disinformation, targeted assaults on states which have legalized cannabis and greater emphasis on demonizing the sacred herb. So if an event like this is happening where YOU live, put down the joint and pick up your picket sign–you're going to need it.
5. Boston Freedom Rally 
Established in 1989, the Boston Freedom Rally, commonly known as "Hempfest," is one of the largest organized congregations of pro-marijuana advocates in the country. I mentioned them in last years 10 marijuana events you shouldn't have missed, and by all accounts, the event was on point. Guests come from all over participate in the daylong event and peacefully call for the legalization of marijuana. In addition to the various educational vendors providing information about the cause, the festival features a series of local bands performing throughout the event as well as numerous food and beverage vendors. Oh yeah, Method Man and Redman will be heading this year. For those of you under the age of 35,Method Man and Redman are MY generations stoner icons.
6. Hempstalk
Another entry from our socialist friends in Oregon, Hempstalk aims to serve both as an event to educate as well as to entertain.  Catch their guest speakers and chew the gummy edible with people at information booths. Listen to live music and quell that piercing case of the munchies with a walk through equally stoned food vendors. This year Hempfest features guest speakers Libertarian Presidential candidate Governor Gary Johnson and renowned poet John Sinclair.
7. HempCon
Okay, this one is for my Bay Area folks. You've seen the tacky orange posters scattered around the city, now it's time to attend the event you only remember when you're exiting the 101. Taking place at Cow Palace (which is right down the street from where I live, incidentally), HempCon is the BIGGEST and most WELL ATTENDED pot fest this side of the Mississippi. Click here to secure your tickets for their 420 Fest, as they sell out fast.
8. The Errl Cup
While sounding more like an event that celebrates the best-dressed patrons at a Medieval Fair, the Errl Cup is, in fact, a medicinal marijuana competition in Arizona which was created by patients, for patients. Yeah, I didn't know a state that didn't recognize Martin Luther King Day until 1992 (and only because it wanted to host the Super Bowl, mind you) had medical marijuana laws on the book until I began writing this article either. In addition to the competition, which is open to dispensaries from all legal states, festival-goers can enjoy live music, glass blowing demonstrations and delicious snacks from local food trucks.
9. Product Earth Expo & Festival
Apparently Product Earth Expo and Festival is the UK's ONLY festival of it's kind, so any readers who happen to catch this sign up now, as you probably won't see anything else like it this year. Plenty of exhibitors will be on site in support of the Cannabis Movement with an assortment of products along with an extensive list of live music acts to bring sound to the movement.
10. The Secret Cup
Okay so there's really nothing secret about the Secret Cup, but it is perhaps the most unique entry on this list.  Judges from the Cup travel all over the USA and even internationally to determine the best hash makers and cannabis growers, ultimately having them meet in a cut-throat finals competition to determine one final champion. Another unique aspect of the event is that all judges are themselves hash makers and cannabis growers, which kind of makes them know what they're judging about. The whole thing is like Iron Chef for hash makers and weed growers. Which I would totally watch.
Honorable Mentions
I honestly can't believe I forgot this, but, better late than late as fuck. If you're not busy this weekend definitely drive, fly, walk or crawl your way to the Sonoma Fairgrounds. Emerald Cup is ALWAYS lit. Your ticket will guarantee access to all areas of the event. Or you can purchase an Emerald Cup Xperience ticket which includes preferred access to musical headliner sets. Either way, it will be a day to remember and definitely one you should attend if you're looking to connect with vendors from around the country.
Want to find out about ALL the best cannabis festivals happening around the world? Click the link below!

 
Check out our list of "10 Marijuana Events You Need to Attend in 2018" here.